Harold Pinter's The Caretaker, collected reviews of revivals 2000-2020
21st April 2020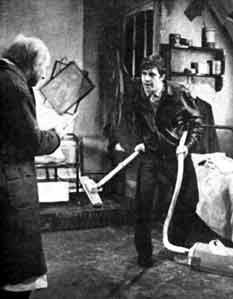 A selection of my reviews of the Caretaker, but first beginning with Harold Hobson's in the Sunday Times, courtesy of the Harold Pinter website: www.haroldpinter.org. To read a tribute to one of its speeches, Mick's wind-up address to Davies early in Act Two, to mark the play's 60th anniversary, visit the Telegraph
Things are Looking Up, Harold Hobson, The Sunday Times 5 June 1960
Even the most robust of faith in the theatre must have been shaken by the futile impropriety, the misplaced ingenuity, the adolescent obsessions and the incompetent playing that have been thrust on us in several first nights. Happily, Harold Pinter's The Caretaker, which JW Lambert highly praised on its production at the Arts, has now moved into the Duchess Theatre to reassure us. Witty, violent, written with an infallible ear for the rhythm of language, menacing and compassionate, The Caretaker is visibly the product of the same disturbing mind that produced the Birthday Party, which is now recognised to be one of the major plays of our time.
Like The Birthday Party, The Caretaker brings us an intruder. As in The Birthday Party, the man whose house is invaded is slow in mind and speech. He is often bewildered, and at moments he feels an intense fear. He is outrageously put upon, and the dirty, disreputable tramp to whom he shows many kindnesses treats them all with a rasping, voluble ingratitude. And yet – this is the first remarkable achievement of Mr. Pinter in this play – this man Aston, who is not only slow in thought, but also gentle, generous, and good-tempered, is quite extraordinarily formidable. All the firing, all the attacks, all the display, all the ruthlessness come from the other side; but, except for a single moment, there is never any doubt who holds the stronger hand.
In the writing of the character, and in its masterly, still playing by Peter Woodthorpe, there is a latent implacability so powerful and so quiet that to attempt to assail it is like driving one's bare fist into a wall.
Aston is admirable, likeable, and without guile. All justice is on his side. The tramp Davies remains to the end what he is at the beginning – an impostor, cruel, selfish, belligerent, and unscrupulous. Yet – and here is Mr. Pinter's second outstanding dramatic achievement in The Caretaker – when the curtain falls on Davies's weak surrender, it is with the tramp that our sympathy lies: and this without our liking and admiration for Aston being in any way diminished.
A great deal of the credit for this is owing to the skill of the blustering pitifulness of Donald Pleasence's performance. But it is owing to the fact, also, that Mr. Pinter can look with equal insight into the hearts of men who are on opposite sides. There is another character in The Caretaker. Mick, Aston's brother, is as swift as Aston is slow. He is perhaps less important than the other two, but his part is the most brilliant. It is he who says the wittiest and most fanciful things. He is a dazzling exponent of the art of letting an imminent threat peep through the gaps in a garment of highly amusing intellectual inconsequence, and Alan Bates plays him with both physical and mental agility.
The third most striking thing in The Caretaker is Aston's long monologue in the second act. It is the very reverse of sensational, and large part of it consists of half sentences and even omissions. In delivering it Mr. Woodthorpe never raises his voice, but his variations in tone are of infinite subtlety. No one can claim to know the best things in the English theatre who has not heard Mr Woodthorpe deliver this speech.
Of course the setting of The Caretaker is sordid. Of course nobody in it wears clothes that please the eye. Of course its story – of how a good man shows charity, and then withdraws it – would not look exciting if compressed into a postcard. But I have already seen The Caretaker twice, and I shall see it again at the first opportunity; and after that I shall see it a fourth time, and a fifth.
as published in the Telegraph
The Caretaker, Comedy Theatre, London Nov 2000
IT'S 40 years since The Caretaker premiered in London and turned its relatively unknown young author, one Harold Pinter, into a feted star overnight. There have, of course, been numerous revivals down the years and countless stagings around the world, but Patrick Marber's first-rate production, newly arrived at the Comedy Theatre, is particularly welcome. Not only does it mark an important anniversary, but it also shows the play, from the vantage-point of a new century, to be an unalloyed masterpiece – as fresh today as ever.
Its audacious simplicity still startles. A man called Aston (Douglas Hodge) brings an elderly tramp called Davies (Michael Gambon) into a dilapidated room in west London. The old man attempts to become part of the furniture, but comes up against the less charitable instincts of Aston's younger brother Mick, (Rupert Graves). There is talk of the vagrant being taken on as the caretaker. In fact there is a good deal of talk about all manner of things, as a series of comical and savage power games are played out. By the end, the situation · remains as enigmatic as at first, but everything has changed.
Pinter's extraordinary way with words may no longer carry the same element of surprise that it did back in 1960. If anything, audiences these days are a little too primed. This first-night crowd – stuffed with celebrities laughed knowingly in all the right places. But it's what informs the patter that counts. Pinter's assessment of human nature is vivid, raw and shocking. Beneath the civilities and dancing rhythms of everyday conversation lies man's brutalised and brutalising essence. The resulting tension alternately tickles your ribs and knocks the stuffing out of you.
When Davies staggers into Rob Howell's exquisitely realised junkyard of an attic-room, its peeling, stained roof apparently in imminent danger of collapse, you see a man on his last legs. His shambling bulk is hugely eloquent of an arduous life on the road, his craggy face has been weatherbeaten to death. He looks as though he has been dragged through every mudfield, lavatory and oil slick in the world. Gambon ranges Davies's accent accordingly, sliding from Welsh to Irish to Bangladeshi to cockney and all points in between. This hugely risky strategy chimes perfectly with the footsore wanderer's comically hazy recollection as to who he is and where he's from – if only he could get to Sidcup, runs his refrain, and get his papers.
The great running gag is that beggars can be choosy. Mouth permanently agape, eyes furtively shifting, Gambon strikes just the right balance between pushiness and pitifulness. Pride at the bottom of the pile is ridiculous, but also the last possession destitute humanity can call its own. Gambon's is a tour de force performance – but it's not a show-stealer. Slicked-up like a Teddy Boy, Graves is outstanding as the vicious wide-boy, Mick. Teeth glinting, he plays with Davies with all the cruelty of a cat half-killing a small bird. Common pleasantries "Who do you bank with?" – are wielded like knives; the great set-piece wind-ups are discharged with machine-gun precision. Douglas Hodge is infinitely touching as the poor, vacant Aston, twitching alone on his bed as he recalls the nightmare ordeal of electric-shock treatment way back. In his pathetic determination to build a shed and sort the place out, the sad pun of the play's title is brought chillingly home: no one has taken care of these misfits. If you're going to do Pinter, you've got to be spot-on – and, line by line, this production is as spot-on as it gets.
The Caretaker, Sheffield Oct 2006
The lack of attention paid to the work of Harold Pinter when he turned 75 last year was faintly flabbergasting: only a visiting tribute mounted by the Gate, Dublin saved the day.
If being Britain's foremost living playwright, coping with cancer and receiving the Nobel Prize for Literature doesn't now warrant a retrospective season of some kind, then what on earth does?
In the peculiar absence of any initiative by the National, a few regional houses have got their act together to pay homage. Last month, the Bristol Old Vic presented The Birthday Party and now the Sheffield Crucible is having a jamboree.
There's plenty of icing on the Crucible's celebratory cake – lots of talks, screenings and one-off performances this month – but the cake itself, a main-house production of The Caretaker (1960), is a feast for the Pinter-famished. Newcomer director Jamie Lloyd creates just the right atmosphere of shadowy intensity and serio-comic menace. Mind you, he has a cast to die for.
If any actor looks as though he might have spent nights in doss-houses and ditches, it's David Bradley, now best known – a neat bit of serendipity, this – as the sinister caretaker Filch in the Harry Potter movies. Cadaverously emaciated, his lank hair matchingly thin, it takes only a ragged old coat, trousers held up by string and battered sandals to complete the transformation to fully-fledged tramp.
Michael Gambon's Davies, six years ago, was far grimier and grander; Bradley, by contrast, suggests a whining whippet of a man who, after years on the road, is on his last legs – a sort of Steptoe in extremis.
This gaunt figure is at once pathetic and unsympathetic. You feel indignant on behalf of Con O'Neill's meek, introverted Aston, who has had the kindness to shelter the stinking vagrant in his dingy, junk-laden bedsit and is rewarded with snarling ingratitude.
And you can't help taking cruel delight in the elaborate wind-ups inflicted on the bewildered old-timer by Aston's brother Mick – played with vicious allure by a Teddy Boy-styled Nigel Harman.
The former EastEnders heart-throb has a way of glowering that instantly dissolves Davies's nascent confidence, and he handles the flick-knife humour of lines such as "Who do you bank with?" with a dexterity that will surprise those who have caught him only on the small screen.
At the end, though, you're left with the bleakest of images: Davies comes into the world of the play with nothing and somehow leaves with even less. As the light dims and the picture fades, Bradley's look of abject despair causes any lingering laughter at his expense to die in the throat.
The Caretaker, Liverpool 2009

Returning to the legendary Liverpool Everyman is becoming quite the done thing for actors of a certain age. So far, we've had Matthew Kelly in Endgame, Pete Postlethwaite in King Lear – and now Jonathan Pryce is stepping into the battered, good-for-nothing shoes of the stinking old tramp Davies in Pinter's The Caretaker, which – just four years after its London premiere – gave the Everyman its first evening show in 1964. Of the three, this to my mind is the performance that warrants the big homecoming.
An habitual assumption about Davies is that he's Welsh, even though his 'real' name may be an assumed one, and he struggles – under interrogation by Mick, who's having none of his brother Aston's trusting hospitality – to recall where he was born. If he ever does get to Sidcup to claim those fabled identification papers of his, it's hardly likely they'll clear up the confusion. And yet Welshness helps – the sing-song comedy of it, the under-dog sadness of it – so Pryce drapes his native accent over Davies' wheedling verbal incontinence in an emphatic way that's never exclusive. Under pressure, he shifts about, tries on a bit of RP, or thank-you-kindly Cockney by way of Carmarthen for size.
That voice is only one of the spellbinding tricks that Pryce – hunched, bearded and grey in an old overcoat – has up his frayed sleeves. With lolling tongue, and eyes continually darting from direct contact, every physical mannerism seems to have been whipped into place by the ravages of age, and the savagery of life on the streets. The actor brilliantly catches the feral, hunted sense of a man who may have been given shelter but who still has a storm raging inside him – which, once unleashed, jeopardises his survival-chances in this bare-boards sanctuary.
Given a beautifully dismal junk-lined design by Eileen Diss, Christopher Morahan's production secures strong performances too from Peter McDonald as the impassive, introverted Aston and from pale, scrawny Tom Brooke as the pettily pugnacious Mick. A kind of tacit understanding flows between the pair – as if Davies was just another piece of scrap they've found to toy with for a while, to half-fix and half-abuse and then discard.
Almost 50 years on, enigma is still etched into the fabric of Pinter's early masterwork – yet there's no mystery about its message: once you're damaged, you're damaged for life.
The Caretaker, Old Vic April 2016
The last time theatregoers saw Timothy Spall tread the boards in a full-length work was a generation ago, when he played Bottom in a production of A Midsummer Night's Dream at the National in 1992 directed by Canadian auteur Robert Lepage that was notorious for requiring the cast to perform in a large muddy pond. Spall apparently later complained: "I'm still picking the mud out of me arse."
It sounds enough to put a great actor off theatre for life (and my how Spall, an international name now thanks to his oily, villainous turn as Peter Pettigrew in the Harry Potter series, has thrived in film ever since). But back he has gamely come, at the age of 59, to give the Old Vic an instant touch of box-office magic in a role that, oddly enough, requires a top-to-toe veneer of grime, even if it spares him the unwanted sodden refreshment of a bath.
Spall plays the tramp Davies in Harold Pinter's early 1960 masterpiece (and commercial breakthrough), a ragged, mentally addled drifter who's offered sanctuary in a cheerless, nay hazardous, West London flat by a disturbed, dam-aged young man called Aston only to fall foul of the latter's unpredictable, implacable younger brother Mick, who owns the property. It's a part that has claimed talents as distinctive as Donald Pleasence (who created the role), Leonard Rossiter, Warren Mitchell, Michael Gambon and Jonathan Pryce, whose Welsh-accented vagrant made the grade in the West End in 2010.
How does Spall fare? Well enough, I'd say, but while he looks the part with wild grey hair, heavy black overcoat and old pinstripe trousers, he's hobbled rather than helped by aspects of his interpretation.
Matthew Warchus's revival protracts the overall experience to three hours with two intervals (that's almost enough time to walk over to Sidcup, where Davies's fabled identity records are kept). At least a small part of this excess is attributable to the meal Spall makes of his lines. Almost every utterance is accompanied by a starter of eye-rolling and muttering, followed by a double-helping of catarrhal growls and mangled vowels finished by the sort of swallowing you usually hear at the dentists. He doesn't only drop his aitches, he drops his Ts his Ns and his Cs.
The effect provides a strong savour of a man who has lived on the streets, turned feral and inwards and half the time is addressing an imaginary audience, assumed to be hostile and in need of barking at. But while there's a nominal gain in authenticity, audibility is too often the loser; the bucket hanging over the junk-crammed attic-room (fine work from designer Rob Howell) may catch every drop of rain-water coming through the roof; I'm not sure I heard every priceless Pinter phrase. Every time Spall takes things in a simpler register – glancing around the place to see what he can nick, trying to prevent a stack of newspapers from tottering, adopting a Welsh accent on the line "I've been around" – his rodent-like characterisation acquires real bite.
Likewise, George MacKay as a smooth, poised, leather-jacketed Mick elicits knee-jerk laughs – even applause – for taking his big deadpan addresses at a barely comprehensible lick, but we lose the inventive, wrong-footing particulars amid the deliberate haste. It's perhaps no surprise that Daniel Mays (recently seen in Line of Duty on TV) achieves in Aston's slow-moving actions and speech, culminating in his sad, dazed recollection of his brutal psychiatric treatment, the most affecting moments of the night. Worth looking in on, then, but with less actorly decoration, we'd get the unvarnished genius of the thing.