May 2020: actors, writers, performers
2nd May 2020
Sheila Atim, actress, 13-05-2020
They sent me the script for The Understudy. I had a read. It was a really fun piece, in terms of tone exactly the kind of thing we need right now. It's the story of the underdog, people who are in situations they may not want to be in. I haven't been keeping track of the self-documenting that people have been doing online and this felt like a nice way of referring to what's going on.
At the heart of it, it has some considered artistry behind it but it's also a way of reaching people at home. I had to make my own recording studio at home, out of duvets and blankets under my stairs. I live in a block of flats in London so I'm not near a lot of traffic noise but everyone is at home at the moment. So I had to pull out every piece of soft fabric in my home – duvet, towels, bath-mat and try and block up every nook and cranny in my living room. I created a cordoned-off area under my stairs using the laundry rack, making these fake walls with duvets and things. It meant not having light for an hour and it was very hot! I had all these cushions around me!
I have to say that I did some understudying for all three shows I did at the RSC the season we did Volpone, The Jew of Malta, and Love's Sacrifice [2015]. With those seasons, you're working at maximum capacity and there's no time to foster ill-will towards anyone else. We were a lovely company, there wasn't that feeling of animosity that's portrayed in The Understudy. One of the shows I've worked on where people in the cast were understudies was Girl From the North Country – and that was full of love and goodwill too. It's nice to see understudies being helped by actors in the roles – saying 'This is what I've learnt, that's what I'm going to pass on." At one point we had two Marianne understudies – and we were all sharing the same dressing room, the three Mariannes together! That was really nice, we all became good friends.
I think the story does reflect a part of the industry. In any industry you're never really going to have complete uniformity of behaviour. My experience has been that there has been a lot of support – that is always something that is very valuable when you're moving into the industry, particularly in the earlier years. It's imperative that people are helping guide you through the process whatever your path is. It's quite intense, whether you trained at drama school or you've fallen into it. It's quite full-on to end up in a room full of new people and realise this is the reality of how you work now, you're going to be doing this every few months, entering a room with new people and they might all be unknown quantities. It's always really nice when you find you can go in a room and relax. I realise it's more the case in the film industry but theatre rehearsal rooms aren't always as safe as they could be and we are getting better at calling it out, ensuring that people are held accountable. That's partly due to social media and also due to people saying "I deserve some respect in my work-place – whether you like me or not, I deserve to be respected and I deserve to be safe". Hopefully that is something people are digging their heels in about. We are still in the process of making it better – it's not all done.
I'm playing Nora, the American wife of the actor who's appearing in the West End play (Josh). Both she and Stephen, the understudy, are in places that they may not have wanted to be. And it's not the worst place in the world. It's not like they're destitute and having a horrible time. That is the case with the Covid situation: some people are grieving, some have family members who are ill or are ill themselves. Some haven't lost their jobs but are in their own house, some are furloughed, everyone is in various degrees of distress. The difficulties that everyone is going through are valid – that's how I see it. These two have the sense that things could be better, they find that in eachother.
Like everyone else, there has been flux for me, things shifting, postponing. I suppose I see the situation as being much bigger than the profession, in terms of the magnitude of it – it's happening across the world. While it's important to keep our industries alive and economy and society alive, clearly for whatever reason, nature is calling for a pause so I'm trying to proactively embrace that pause. It's not like an apathy – an accepting of my lot, but it's maybe more respect for the magnitude of what's going on. That doesn't mean I'm not trying to be active in solutions to help. I'm on the board of the Old Vic. There are conversations going on there. I'm doing this piece specially for the theatre sector. I'm trying to be involved in getting things going but I recognise this is biology, nature, something huge is happening to us. I'm not worrying too much about work. That may be a privileged position to speak from – some people are struggling on the breadline, that isn't the path everyone can take.
Am I writing during this lockdown period? It's funny because the play that I took to Edinburgh had a scene of a virus outbreak in it. I was redrafting it at the beginning of the year. That was a weirdly meta experience. But as it is, with everything that was put on hold, I have been writing things not directly related to what is going on. Because we're still in it, I'm not ready to write about it because I don't understand it, there's still much to go through. Once the smoke clears, this is going to be a long journey. I'm using this time to be creative but also I'm not pressurising myself. Sometimes the events of the day will help you change your mood. But when you can't move a mile or so from your house, you may end up in a bad mood – and it helps to stick Netflix on!
I really don't know about the theatres reopening. It all depends on what happens. That's a larger question for the government and that isn't a question they're in a position to answer yet. It feels like there is a lot they're going to have to deal with. I'm not sure where theatre is in that pecking order. All I know is that there's going to be flux. It could be that things change so much that everything stays the same in a net way. It could be for instance there's a move towards the digital, and then after that everyone is sick of the digital because they've been starved of their lives – it's all to play for! I like to take my time with things and really feel how the ground is moving and go with it. I'm not on social media but even if I was sharing digital output I think I would be quiet at this time. I think this is a time for observation and reflection.
We are a very adaptable species, who knows what will be born out of this adversity? I'm hoping that while I understand that financial woes are a real thing – if you can't eat, you can't eat – my hope is that people find a way through. This is why access channels are so important. We must break down the barriers that finance often erects that stop people being able to participate in art. If we continue to create education systems where the amount of money you have is so important, when you get to a situation like this where there is a crisis and everything breaks down all that is left is the money in your pocket, and how much change you have left over –  so we are right back to where we started. It's about building a foundation that doesn't rely so heavily on where you are placed within the financial hierarchy. My hope is that if enough energy was going in that direction in the first place – trying to make diversity sustainable, then hopefully when the dust settles  we will still find ways in which people from less financially advantaged backgrounds can participate. I have a feeling that is going to happen, because once you give people the taste of something they're in and will find the way back in – you can't close the door on them again. I believe that will happen, but it depends on a lot of things…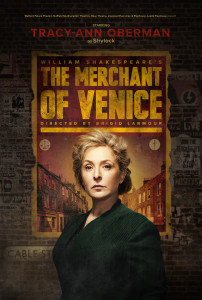 Tracy-Ann Oberman, actress, 29-04-2020
Obviously getting The Merchant of Venice together was a labour of love for everybody. And to bring five big regional venues together – with possibly the West End for a later date – was really exciting. We kept putting off the date saying we will start rehearsals in September, then we will start in October but it's the not-knowing when it's going to be possible now that's been upsetting. Many of those theatres are nervous about whether they will still be going and how much longer they can go without the revenue of audiences.
There's a great sadness that this project was within arms-reach of being alive and has been put back into the freezer – it's like Frankenstein, you've made a thing come alive, and then you've got to put it back to sleep again. I don't know how many regional theatres can withstand this lockdown. For me it was important that this project went to those regional venues because the production is saying something about their local history too. I'm hoping that when we do finally do Merchant we will be going back to theatres crying out for projects. Having been cut off from each other has made me appreciate how important the communal experience is – maybe the crisis will redress the balance of how we value theatre.
We are hoping to make an announcement very soon about the play and when it will restart. I hope the play's relevance will still be there – racism and anti-Semitism won't be going anywhere anytime soon but beyond that, the idea is to coincide with the (85th) anniversary of the Battle of Holbeck Moor [27th September 1936] and the Battle of Cable Street [4 October 1936] – reminding this country of its civil rights moment and those communities of their own history in fighting racism. Merchant will continue to be pertinent about being an outsider and not being accepted as it ever was, but it's also about a community pulling together, and if nothing else that is happening now. We are more aware of our neighbours than ever before. We are conscious of 'we' rather than 'me' – and aware of the other and that the other is actually the same as me, we all die from the same disease. "If you prick us…"
Is there a feeling of deprivation, in terms of the work? I was about to start filming a BBC series, something for Sky, then the Merchant – so my whole year was sorted, it's been a nightmare. My entire income has gone, and I'm not furloughed – no one I know in a production has been furloughed. More than that, for me to play the first notable female Shylock was massive – it has been a life's ambition. To have that taken away for the immediate future was painful, we were meant to start rehearsing in July. We knew how it was going to work, it had been designed etc
What I've realised is that it's the desire to create with other people that's the thing. It's taking words on the page and making a world from it, that's the alchemy of acting – making it believable. I think it's the communal aspect of all that which we're missing. The Thursday clapping of our NHS workers is communal. Down our street we all bang saucepans and pots – we have become quite harmonious. We can do whatever what we want to on our own at home, but the difference between being an actor and a comedian is that actors tend to work with other people. The collective aspect of being able to create with others, bouncing ideas around, the trial and error, the debate, the fun, to tell a story – I really miss that.
That said, my brilliant friend the writer and actor Matt Berry – who I do Toast of London with – told me to buy myself a microphone and make a little home studio – so I've been doing lots of online comedy and online drama recordings which has been very good and therapeutic. And I've had a BBC Radio 4 commission to write another Afternoon Play in my Hollywood Series. I was getting worried when I'd ever get round to writing it. I managed to use this time wisely to write it and get it to a good finish via a second draft.
Richard Gadd, writer/performer, whose Olivier-nominated Baby Reindeer was to transfer (from the Bush) to the Ambassadors Theatre, London, 2nd April – 2nd May [transcript from 16-04-2020]
I can be extremely irrational. Weirdly I managed to be quite rational and philosophical about it [the theatre closures] in the end. There's a sense that we're all in it together and there are much bigger things at play, like people dying and getting sick. At first I was obviously devastated. The West End meant a lot to me. We've all got goals and bucket lists in our head and I never say any of them out-loud because I think you can tempt fate. But the West End was a dream and a goal of mine to do. I was proud of going there, especially with a show that was very close to me, about a very difficult period of time. I was proud of it and I was looking forward to the challenge of getting the show from the round to the end-on space.
We'd had one day of rehearsals which were pretty tricky because that day Boris implied the theatres would shut. Then the next day everything was stopped, cancelled or postponed. It was pretty gutting – and there was New York and the Oliviers alongside. I'd got myself psychologically ready that April-May was going to be the West End then I was going to go to New York – that was going to be my Baby Reindeer 2020 experience. I'd have to knuckle down and face my demons for those two and a bit months then go back to creating work elsewhere – I enjoyed the fact that there was a period of time blocked out. It was hard to jut out of that mindset a little bit, when it was pulled away there was a slight weariness – not that 'I'm going to have to do this again', because I'm lucky, but 'Ah, god, I have to start that psychological journey again'. There were the pressures of the stalker and the worry that that brings and the fact that the show is a bit kicking the hornets' nest and morally challenging, having to face tough questions – it's a show that places myself in the firing line. But something like this really does remind you that the real people saving the world are the NHS. I'm someone who ruminates loads, but I didn't with this, which surprised me.
What Sonia Friedman Productions did was pay the first week of rehearsals straight away – and went 'let's figure out what is going on, we will report back'. They've been extremely engaged and gone: 'We will not leave you hanging out to dry'. I thought they went about that quite well. I now have to figure out how you do this self-employed thing – and I have no idea. I'm weighing up whether I should see if I can weather the storm, so that the money can be used in a better place. There are so many financial questions at the moment which I didn't think I would have to face over this period… But I put the art first.  The goal wasn't the money it was to ensure they were committed to doing it again after coronavirus. There's the jazz West End version of the show but it can also just be a person standing on the stage. I would hope we would exhaust all options before throwing it out of the West End. But if not, I will try and get back there with another show and just do Baby Reindeer in a place that is more affordable. But I don't think if it doesn't make it into town due to the circumstances we're in that I'd never do it again.
I've got various other projects that I've been meaning to do for ages. Treatments that people have been nagging me for. I've been using this time to be quite productive and get that stuff done. I know some people can't split focus very well. But even while Baby Reindeer was going on at the Bush I was thinking 'what next?' – being a theatre/comedy maker you're always aware the work can dry up at any point.
I've still got comedies in development that have nothing to do with my life – based on characters I've conjured. Sometimes I need a life break from all the dark inward stuff. I'm writing a few dramas, and I'm one of the writers of Sex Education. When Monkey See Money Do finished there was a lot of interest to develop that into a TV piece but sometimes I feel some shows are best left as theatre shows.  It felt like every idea I had, whether it be a romantic comedy or something about football, people were like: 'Yes but can we get a sexual abuse angle in it?' I could tell that was what people wanted from me. I felt like my autobiography was bleeding into everything. Hopefully people can now see me as a bit more varied. I keep my projects more separate. When you're busy running around you pray for a time to sit down and actually have the time to devote to it all without interruption – but I obviously wouldn't pray for something this bad to happen.
As for Edinburgh, it was actually going to be my first year off in 10 years! I have done six new shows in that decade but I've always gone in some capacity. 2020 was going to be almost my '100 per cent I'm not going no matter how much someone pays me' year. And now it's not a year off in a way…
I owe Edinburgh everything. Any good thing that happened in my life from a professional point of view is because of it. There's a lot of cynicism because the competition is so fierce. There is the commercial side of it, the expense, the landlords… but I never put it down, it's magical. That said, I think all the old ways of doing things are breaking down. You can get more hits from a video online than an audience for the whole month of August.
I see artists going to the festival who, because they've learnt comedy online through editing and YouTube videos, are trying to make themselves fit this mould that doesn't work for them. I think if any artist, writer, performer sat and thought "What do I want to be and how do they get there?", the question they should be asking is "What form of comedy is best suited to what I do?" I like to think conceptually about my work… I like to be quite inventive, and I always thought the Edinburgh Festival was the place to be, because stuff like that can really stand out. There is an artistic bent in Edinburgh – the stuff that does rise to the top is the stuff that's saying or doing something different. I sometimes don't understand why people don't open their shows in London more. Just because the comedy year is defined by Edinburgh doesn't mean you yourself have to adopt that. It's figuring out what's good for you.
The mistake people make with the fringe is to try and make themselves something they're not – just to give the industry what it wants. That's the danger… I never want to do the same thing. Another mistake that people make when they go is they will do the same show – it will be a different spray job each year, and Edinburgh is quite savage when it comes to repeat performances.
Overall, I think writers for the most part will see a bit of a change as a result of this but people who are solely comedians or solely actors are going to feel the burn a whole lot more. There are going to be some pretty sad stories that will come out of this period of time…
READ ON