Theatre 2020: What comes next?
6th June 2020
Charlotte St Martin, President of the Broadway League, 26-06-2020
We've been calling the last decade the golden age of Broadway. We've continued to have hit shows and high attendance, and high occupancy in the theatres. We were smack dab in the middle of a terrific period for Broadway. The truth is that we've been in 10 years of high occupancy in our theatres. You can't be full more than once a day or twice on a matinee day. We were delivering 250,000 visitors to Times Square every week that aren't there now, so it's going to be quiet until we're back. Things are not picking up much. I was in Times Square yesterday – our offices are there – it's still very quiet. We're not open, the restaurants for the most part are not open, the stores are not open.
Fortunately when we closed on March 12th, we had 20 shows that had opened this season, and had 16 more that were to open. Then you add to that the long-running shows. Only three shows have announced that they're not coming back when Broadway comes back, Disney's Frozen, Who's Afraid..? and Hangmen. So far all the shows that were set to open still have not said they won't open. Just yesterday four announced they were moving to the spring of 2021.
It's looking like Broadway won't be back until at least after the 1st January 2021, and a lot of our producers are thinking the spring is when we'll be back. Is this the biggest crisis we've faced? There is no equivalent to this, not even close. That's potentially a year of closure. We're talking about $2bn in terms of lost box-office revenue. We estimate we lose about $35m a week in ticket sales. Broadway has a major impact on New York's economy. In our last full season, it was an [overall] impact of over $14bn, which means New York is looking at a hit of over $1bn a month.
That said, I believe the theatres will all be back. It's very difficult for the theatre owners, absolutely, these are historic buildings – it costs a lot to keep them going whether there's anyone in them or not. But they can't be used for anything else, people don't tend to sell theatres in New York.  They may not all open with a show. If things get worse, and [the crisis] goes on longer than we anticipate, some might go dark for longer but it's not uncommon to have a dark theatre.
We get no government support. The city and state consider themselves bankrupt. Broadway is not in the list of sectors they would give money to. But there is a rumour that the federal government will inject a business stimulus and give money to the state, which they haven't done before. If that's the case it's possible we might get some form of stimulus from the state. There are 97,000 jobs in New York City depending on Broadway, they need us to get open again to get those people back to work.
If we have a vaccine everyone will be happy but there is no guarantee. We've been working on this diligently for two and a half months non-stop. The first couple of weeks we were reeling with figuring out what to do, and then once we got the plans together we pulled in the people to help us figure this all out – because we're not doctors, we're artists. We are working with top health officials in New York state including the head of public health and the president of one of our largest hospitals who happens to be an infectious diseases specialist; together they are working to come up with all the protocols that would allow us to open. We feel like we're coming close to coming up with some strong recommendations on protocols but every couple of weeks you get new information that changes what you were thinking.
We can't socially distance any more than the West End can, the financial model doesn't work. If we open we won't be socially distanced, that doesn't mean the theatres will be full, but our intention will be to make them full. The kinds of things we're looking at include points of physical contact – whether it's seats or toilets or ticketing. Can there be different ways to be served drinks and snacks? There are a lot of people who think shows will be cut down to be 90 minutes so you don't have an intermission, and have to go to the restrooms. Like your theatres, ours don't have a lot of restroom space, and don't have space for social distancing. Face-masks will be a fixture for some time unless a magic bullet is found.
We will have a staggered opening because there is too much work that would have to be done at the same time. Ideally we'd have 15-20 shows open the first week then every week a few more shows open. We assume that the 19 per cent of our audience that comes from outside the US will be dramatically decreased. We're anticipating that at least 15 per cent of that figure won't be here for a while. One of the things we've seen in past crises – war, recessions – is that where there is decreased international travel, there is increased domestic travel. If you can't go to Paris you might come to New York, so the cities like San Francisco, New York and Chicago will benefit if international travel slows down.  I'm very active in the tourist board for the city and they are predicting it will take several years to come back to the levels we had before – New York City had been having a golden age of tourism as well, which was one of the reasons we were doing so well.
From being one of the worst [in combating the virus] New York is now doing best – we have socially distanced and quarantined ourselves, and we now have very few cases. I'm feeling cautiously optimistic – but the spike in cases around the country is frightening because those people could come to New York. It's still too early to think the worst is behind us. In New York we have a  governor who is not going to allow us to spike, he will shut us down as quick as I can say it. I think in general there is now a lot of pent-up demand for Broadway. If you look on social media, it's like 'You're not working hard enough, get Broadway open!" But there's still a lot to do…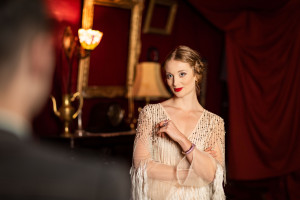 Louis Hartshorn and Brian Hook, producers, The Great Gatsby, & managing director/ creative director of Hartshorn – Hook Productions 03-06-2020
press release, 03-06-2020: "Olivier Award winning producers Louis Hartshorn and Brian Hook have re-imagined and re-set the production as an Art Deco Masquerade Ball, with audience members wearing compulsory face coverings to complement their fabulous attire"
Louis Hartshorn
It feels to me like with The Great Gatsby we had an opportunity, and resulting from that a duty, to use the show to work out some of the key things that might help the industry as a whole and that we're vexing about every day: how we can safely return to having employment for all the people we love to bits and being able to present the work we care about. Gatsby can be a low capacity show within a large space where people can socially distance. We have a creative team who are open to making changes that make the show compatible [with current requirements]. We have control of the venue – and that's the thing that immersive has that a lot of traditional shows don't have. We've got the ability to make the changes that are necessary. We think PPE will become the norm for any indoor activity and when we had the idea that PPE could be incorporated as part of the design element, we got excited – and thought: maybe we could make this work. Having spent 10 weeks on it, I'd say we can.
We have partners in many countries round the world, doing Gatsby in Seoul and Belgium. In each different environment we're seeing all the different measures the governments are putting in place. We are taking the most robust of them to make sure that we're several steps ahead of what those might be here. We're setting ourselves a very high bar – whatever measures the government puts in place, we should be able to comply with.
Brian Hook
If we get to October 1st and there are valuable reasons why this isn't an OK idea then fine. I don't think we are expecting to have all the answers but we are expecting to help and be part of the conversation about how we might reopen. Part of that is about putting a flag in the sand – 'here is when we think we can do it by, responsibly, let's feed into that and see the best ways of developing it'. The unions have played an amazing part. I'm so impressed by Equity's involvement. They are saying where the dangers and problems are and are being excited by it too. If we sit on our hands and do nothing we're all dead and it's gone. If we can find responsible ways to bring the show back we probably should.
We are looking at other industries: the expectation is that pubs and restaurants will be able to open indoors with 2m social distancing in place. Our audience can either sit or stand. In the original version the audience moved around a lot – they won't do that now, because we need to have a more controlled environment but we will provide enough space in our show for them to be active. Pubs and bars and restaurants are having to adapt to requirements – they will be doing that before us so there's lots of time for us to learn from them.
Louis Hartshorn
Where we used to take a group of 20-30 into Gatsby's library you will now take a group of five to six.  You can't have a gaggle of people moving together. The show will be changed in a fundamental way. But it's exciting to go back to something we know and love. We did the maths – in terms of the economics – looked at what kinds of capacity would be achievable with a 2m rule. The production takes the bar revenue so the maths is just a little bit easier for this than it would be for a traditional show – we thought we can just about get it to break even. We got excited about the creative element, making it a masquerade – that was about three weeks into lockdown and we've been meticulously working on it ever since.
Brian Hook
What's gorgeous is the willingness of everybody to really engage with us in a discussion – not only about the idea, but what their personal circumstances are, the development of the non-audience facing side of it. I was expecting it to be quite hard to think through and get people on board with – but it has been met with brilliant ideas. It helps that we were in the middle of a casting process anyway, we were always changing half the cast in April. There are still half the team who know the venue really well and what is being asked of them, then a set of fresh faces comes to the table as well, with their own view on it, which is really cool. Creatively, it's not very often you get to revisit your baby, five years on.
Louis Hartshorn
There is more time between now and the show being due to open than there is between now and when lockdown began – so we expect things to change. If for example the UK revises the 2m rules to be in line with the World Health Organisation – which is being actively discussed in the DCMS – that would change our numbers, though not by much. We will start with 90 and see what the recommendation ends up being. We reached the conclusion that the show was possible from an audience perspective quite a while ago and have spent a great deal of time working on how the backstage model would work, it's complex and has taken up the most time, the most care. Every cast member will have their own requirements. We have discussed it all with BECTU. People who may not previously have been vulnerable may now have a vulnerability – which should be protected under employment law. So each actor, stage manager, bar manager and member of bar staff needs an individual approach.
Brian Hook
That was in place for us in a far less developed way a few shows before lockdown happened. We had started to structure and change the show and see how we could facilitate that spacing. Some of those principles are part of the immersive approach – after all, the first thing we threw away was the [traditional] auditorium – that was not the best way to tell the stories we wanted to tell, and now that could be our biggest strength. We have never been bound by those forms. Louis and I produce a lot of traditional work, and we are ready to get involved in how that restarts but I think that comes second. I can't imagine ways in which I could put a 16-person actor-muso show back into somewhere like The Other Palace responsibly. That is heartbreaking but we have a responsibility to be safe and careful. The pathway for immersive theatres, specifically this show, is more straightforward. Immersive theatre-makers are always used to thinking outside the box. I hope that paves the way for traditional theatre comebacks – 'These guys tried this thing and it worked…' I don't think everyone should sit on their hands and bank on the cavalry coming. Everyone is waiting to hear what the government is going to do, and I don't want all my eggs in that basket. I don't want to bank on a saviour that might not come. I hope this will lift people up for a couple of hours. I hope everyone gets to stop with the Zoom calls and the bullshit. I know I really need a good news story. We want people to come away going 'Wicked, I needed that, but also they really care about their cast, their crew and us as audience…'
immersiveldn.com  immersivegatsby.com
Julian Bird, Chief Executive of the Society of London Theatre and UK Theatre 13-05-2020
The government has today announced five major task forces for the country around five major elements of the economy, one of which is called Recreation and Leisure. That taskforce is going to be chaired by the DCMS secretary of state.  How everyone (culture, sport etc) is going to feed into that may be announced this weekend. We are not sure what the government is planning but suffice it to say we are in conversations.
The major question is that the majority of theatres cannot open with social distancing in place – it's impossible, for economics, for the business case let alone the experience, it just doesn't work. The big conversations are 'what can we put in place as an industry to enable venues to open, for rehearsals to happen, to enable actors to be safe on stage?', that is all the work that is all ongoing, akin to what you see happening in the sports world, where sports are gradually going to come back, sometimes behind closed doors but more and more they will have spectators as well as the year goes on. That is the best analogy I can give as to where we are in discussions at the moment, with vast amounts of work going on.
If you look to South Korea which is the only real country that has got to this point, their theatres are opening up, Phantom of the Opera is playing happily there, the whole auditorium is open – we are working on all those issues that surround all of that, so in a year's time we would hope that every theatre in the country is open and thriving.
We need the government to sign off on a set of principles on safely opening and operating. The best analogy is the sports world, every sport is having to go through that, under an overarching set of principles. That is where we are. Can we get to an overarching set of principles, can we then work out how that applies to each type of theatre or each type of production? Provided we can get to that and then consumers buy into it, we will be there.
One of the single biggest issues that we face is the issue of insurance. Will insurance-writers write policies that will cover us? What happens if a member of a cast gets diagnosed, does that mean you have to close the whole production for two weeks' quarantine – and who is going to cover that risk? Second is the whole issue around liability and bringing audiences into venues or casts into proximity. We may well need the government to have some sort of government-backed insurance scheme to enable industries to get back on their feet, if the commercial sector won't write the policies. So there are big issues which we are working through – it may be that we need the government to step in on some of that. We are not quite there yet but it's a major issue that we have absolutely discussed with the government. And insurance remains one of the real roadblocks to reopening at the moment.
You get to (as I call them) trigger-points where people have to make decisions on opening/closing shows. [In terms of the autumn,] we're not at most of those trigger-points yet but as every week goes on we get closer towards them, and different theatres have different trigger-points. But we're not there yet which is why the work we've got underway in the next two weeks is so important – to go: can we get to a point where we can open our theatres again? I'm not going to lose sight of trying to fight hard to get to that, while I'm also a pragmatist and accept that there are a huge number of roadblocks in the way. But come on, we are a creative industry – with brilliant people working in it – let's see what we can do. There are a number of people working on brilliantly creative, clever ideas in the open air, and all sorts of stuff. I'm sure creativity will come through but that will be a small percentage of theatrical activity you would normally see in this country, that will not replace the majority – and what we have to fight for is getting that majority back up and open.
There are theatre organisations the length and breadth of the country that are months away from the same fate as the Nuffield, Southampton and what we have to do is try and fight to keep them all. I have to remain optimistic that we can fight for our world-leading industry – and I believe we have to do that with every bit of our being.